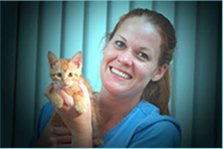 Katie Martin
Veterinary Technician
Katie has been with Marcum Road Animal Hospital for over 12 years! She has 2 dogs.
Marion Maze
Veterinary Technician
Marion has 2 dogs and a cat, and a special interest in reptiles. She is holding Keiko, our clinic Amazon who talks, barks, sneezes, meows and tries to answer the phone. Marion has worked for Marcum Road Animal Hospital off and on for over 15 years.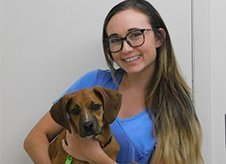 Katherine Gallagher
Veterinary Assistant
Bio coming soon! She is pictured with her dog, Cooper.
Lynisha "LJ" Johnson
Animal Care Assistant
LJ is a senior in high school and an award winning weightlifter. She is pictured with her dog, Romeo!
Carmen White
Animal Care Assistant
Carmen is a new addition to the Marcum Road Animal Hospital team and joined us in 2019.. She is holding one of our clinic cats who follows us everywhere!
Stacey Evans
Receptionist
Stacey has been with us for over 17 years! She has a chihuahua "herd" and is pictured with Emma, her oldest.
Kelly Tyer
Receptionist
Kelly has been with us over 6 years and her fur-family is made up of several dogs!
Barbi-Jo Hausmann
Receptionist
Barbi Jo has recently joined our team and is pictured with her dog, Apollo!